Swedish honey of the highest quality!
Svensk Landskapshonung (Swedish Landscape Honey) supplies great Swedish honey of highest quality, produced by beekeepers from different parts of our country. We take great pride in our honey, and a lot of work is put into delivering top tier honey with great taste and quality.
With experience and sampling we choose the best honey of our collection of hives to make sure that our products taste great. Every beekeeper bottles their own honey and delivers it to the grocery chains. The diverse Swedish landscape makes the local honey something special. The nectar of the flowers determine the color and taste of the honey.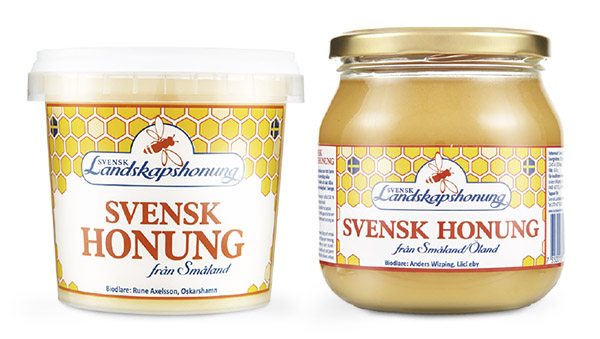 We are all professional beekeepers!
Swedish Landscape Honey is a co-operative society consisting of ten of Swedens most prominent beekeepers. The union was founded in 1990 with one goal in mind: to produce and deliver honey to the grocery chains, with no middleman, all year round.
Starting out slow, our production rate has now expanded and we produce about 200.000 tons of Swedish honey each season. Through co-operation within the co-operative society it is possible for us to deliver honey every day of the year.
Our honey is almost always delivered from our members own hives, with each beekeeper in charge of between 200 and 1000 bee societies. Some of our members buy honey from local producers to fill up when demand is high.
Frequently Asked Questions
We always deliver Swedish honey of highest quality to our customers. But even the biggest honey nerd might have questions concerning our products. So to fill in the blanks, we've dedicated a section of our site to some of the most frequently asked questions of yours.